When:
May 15, 2013 @ 3:00 pm – May 15, 2013 @ 5:00 pm
America/Los Angeles Timezone
2013-05-15T15:00:00-07:00
2013-05-15T17:00:00-07:00
Where:
McCune Conference Room
HSSB 6020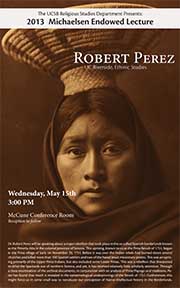 Dr. Robert Perez will be speaking about a major rebellion that took place in the so-­called Spanish borderlands known as the Pimería Alta in the colonial province of Sonora. This uprising, known to us as the Pima Revolt of 1751, began in the Pima village of Saric on November 20, 1751. Before it was over the Indian rebels had burned down several churches and killed more than 100 Spanish settlers and two of the hated Jesuit missionary priests. This was an uprising primarily of the Upper Pima Indians, but also included some Lower Pimas. This was a rebellion that threatened to drive the Spaniards out of northern Sonora, and yet, it has received relatively little scholarly attention. Through a close examination of the archival documents, in conjunction with an analysis of Pima/Papago oral traditions, Perez has found that much is revealed in the epistemological underpinnings of the Revolt of 1751. Furthermore, this might force us in some small way to reevaluate our conception of Native intellectual history in the Borderlands.