When:
May 22, 2013 @ 3:00 pm – May 22, 2013 @ 5:00 pm
America/Los Angeles Timezone
2013-05-22T15:00:00-07:00
2013-05-22T17:00:00-07:00
Philip Deslippe, Religious Studies, University of California, Santa Barbara  
Mapping the Terrain of Early American Yoga: Hindu Lecturers, Yogi Cults, and Swami Rackets
Wednesday, May 22 / 3:00 pm
3041 Humanities and Social Sciences Building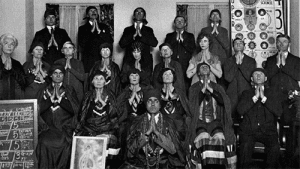 The recent outpouring of scholarly and popular writing on the history of American yoga has largely glossed over the seven decades between Swami Vivekananda in 1893 and the massive influx of swamis and gurus in the late 1960s. Not only was this interim period rich with yogic activity, but the concept of yoga that existed then was strikingly different and much more diverse than the physical and postural yoga that has become ubiquitous in the United States today. This lecture will present an overview of original research on early American yoga that will map out the networks of yoga teachers during this interim period, both devout and dubious, and place them within the cultural climate in which they operated.
Philip Deslippe is a doctoral student in the Department of Religious Studies at UCSB. His lecture will draw on his ongoing research on yoga and Asian religious traditions in North America.
Sponsored by the IHC South Asian Religions and Cultures Research Focus Group