When:
March 2, 2015 @ 5:00 pm – 7:00 pm
America/Los Angeles Timezone
2015-03-02T17:00:00-08:00
2015-03-02T19:00:00-08:00
Where:
MCC Lounge / Gallery
Multicultural Center
University of California, Santa Barbara, Isla Vista, CA 93117
USA

Cost:
Free! Open to the public.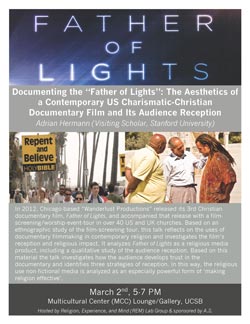 In 2012, Chicago-based "Wanderlust Productions" released its third Christian documentary film, Father of Lights, and accompanied that release with a film-screening/worship-event-tour in over 40 US and UK churches. Drawing on charismatic Christianity's exponential growth as a global religion, the film reports on miraculous events occurring around those following Jesus all over the world, and purports to explore "God's character and heart, with some of the most amazing supernatural encounters ever caught on film". It includes 'live-action' documentary scenes as well as talking head interviews with well-known charismatic-Christian pastors and church leaders, complemented by the director's voice-over narration. Based on an ethnographic study of the film-screening tour, this talk reflects on the uses of documentary filmmaking in contemporary religion and investigates the film's reception and religious impact. It analyzes Father of Lights as a religious media product, including a qualitative study of the audience reception (based on participant observation at eight events, semi-structured interviews with audience members and pastors and survey questionnaires). Based on this material the talk investigates how the audience develops trust in the documentary and identifies three strategies of reception. In this way, the religious use non-fictional media is analyzed as an especially powerful form of 'making religion effective'.
Adrian Hermann is a Visiting Scholar at the Department of Anthropology, Stanford University. He holds a PhD in the Study of Religion from the University of Basel Switzerland. His research interests include the globalization of the category of religion, global Christianity (especially in Southeast Asia and the US), as well as religion and documentary film. He has edited books on the history of religion in Europe and on global Christianity, and published on the encounter of Buddhism and Christianity in 19th century Asia and the history of Christianity in the Philippines. His book Unterscheidungen der Religion ("Distinctions of Religion) will be published by Vandenhoeck & Ruprecht in April 2015.