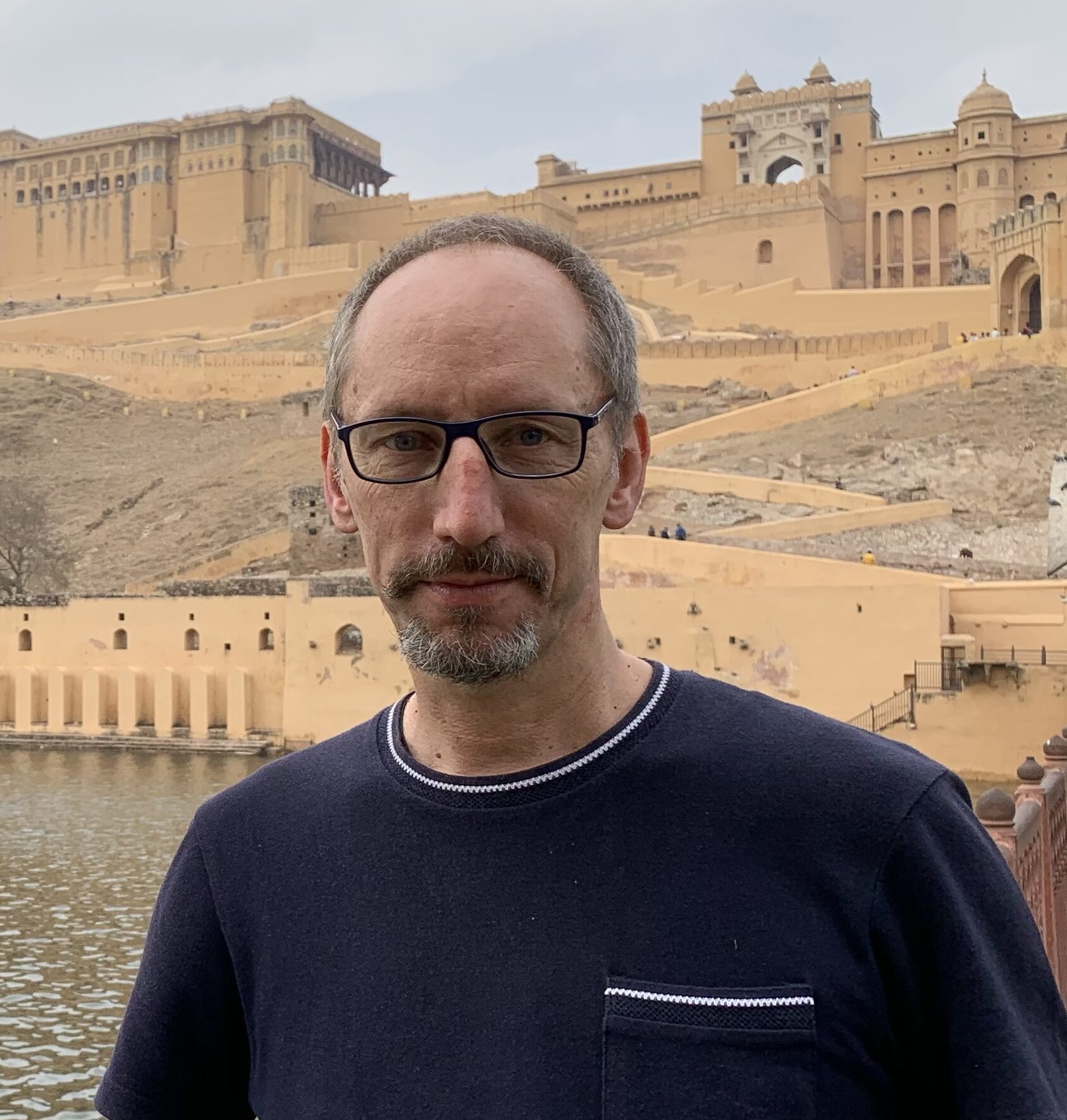 Area:
Indo-Tibetan Buddhism, Tantric Buddhism, Buddhist philosophy, Buddhist ethics
Email:
About:
EDUCATION
PhD candidate (ABD), Religious Studies, UC Santa Barbara (Sept. 2016 – present); advisor: José Cabezón
MA, Religious Studies, University of Chicago Divinity School (June 2016)
Advanced certificate of Buddhist Studies, Istituto Lama Tzong Khapa, Pisa, Italy (Dec. 2004)
BA, Humanities (emphasis in Asian Studies), San Francisco State University (June 1998)
AREAS OF INTEREST
Indo-Tibetan Buddhism; Tantric Buddhism; Buddhist ethics and comparative ethics; Atiśa Dīpaṃkara and the Kadam school; Gelug philosophy (Madhyamaka, Prajñāpāramitā, and Abhidharma); Buddhism and modernity
ABOUT
Patrick Lambelet is a PhD candidate, researching the transmission of esoteric tantric Buddhism (Vajrayāna) from India to Tibet during the "Later Spread" (Chidar) of the Buddhist teachings in Tibet. His dissertation focuses on selected writings of Atiśa Dīpaṃkara Śrījñāna (982–1054), a Bengali scholar-monk who was central to the Chidar period and whose Kadampa school was a major influence on later Tibetan Buddhist schools. In these works, Atiśa wrote about tantric traditions that many considered risky due to their advocacy of supposedly transgressive sexual practices. At the same time, he attempted to reframe these elements in a more conventional Mahāyāna ethical framework. These writings show that Atiśa was far more wide-ranging in his views than many accounts, both traditional and modern, would lead us to believe.
The dissertation argues that an important factor in Atiśa's ostensibly reformist tendencies may have been a Tibetan political climate that emphasized a conservative approach to Buddhist ethics and sought to marginalize potentially problematic Vajrayāna teachings. This raises broader questions about Buddhist notions of orthodoxy and heterodoxy, the construction of religious identity and authority, and the role of transgression and sexuality in tantric Buddhism.
Previous to his foray into academia, Patrick spent more than fifteen years in Italy, studying Tibetan Buddhist philosophy and practice with Tibetan teachers at Istituto Lama Tzong Khapa (Lama Tzong Khapa Institute), one of the largest Buddhist centers in Europe. At ILTK, he completed a seven-year study program modeled on a traditional Tibetan monastic curriculum. This included the study of Buddhist philosophical subjects—such as the Perfection of Wisdom (Prajñāpāramitā), Middle Way philosophy (Madhyamaka), Metaphysics (Abhidharma)—as well as commentaries on Vajrayāna. He also learned to read and translate classical Tibetan.
After completing the course, Patrick led numerous courses and retreats on Buddhism in Europe and the United States, helped to design and facilitate an online program of Buddhist studies, worked as an oral interpreter for Tibetan teachers, and held various teaching and administrative posts. He also has worked extensively as an editor, both of academic journals and publications and books for a more general readership, including books by the Dalai Lama.
He was the recipient of a Fulbright Nehru scholarship in 2019, spending five months doing research and translation at the Central Institute of Higher Tibetan Studies (CIHTS) in Sarnath, India.
He is currently (2020-2021) serving as the graduate liaison for the UCSB department of Religious Studies.
CONFERENCE PRESENTATIONS AND TALKS
"Atiśa Dīpaṃkara and Vajrayāna 'Reform' during the Tibetan Chidar," UC Santa Barbara/UC Riverside/Stanford University Graduate Student Buddhist Studies Conference (virtual); May 2021
"Atiśa Dīpaṃkara and the Later Transmission of Buddhism in Tibet," South and Central Asia Fulbright Conference, Kochi, India; February 2020
"Yogi or Reformer, Sinner or Saint: Considering the Influence of Atiśa's Tantric Songs," Conference of the International Association for Tibetan Studies (IATS), Paris; July 2019
"Other Worlds, Inner Worlds, and Unexpected Convergences: The Dalai Lama, Buddhism, and Science," American Academy of Religion Western Region (AARW), University of the West, CA; March 2017
"Tibetan Buddhism 101," Introductory Talk, University of Chicago; April 2015
"On Knowing the Ultimate: Indian and Tibetan Views on the Two Truths in Prāsaṅgika-Madhyamaka," Asian Studies Student Conference, University of Madison-Wisconsin; July 2015
"Two Truths, Self, and the Roots of Suffering and Happiness in Buddhism," Psychoanalytic Buddhist Training Workshop, ILTK, Pisa, Italy; June 2013
"A Buddhist View of Emptiness and Dependent Origination," Unitarian Universalist Church, Youngstown, OH; August 2012
"Faith and Reasoning in the Buddhist Tradition," Agliati Center for Interreligious Dialogue, Pisa, Italy; 2008
PUBLICATIONS
Book Review: Changing Minds: Contributions to the Study of Buddhism and Tibet in Honor of Jeffrey Hopkins
in Reading Religion (American Academy of Religion) (2018)
Book Review: Greek Buddha: Pyrrho's Encounter with Early Buddhism in Central Asia, in Religious Studies Review (June 2017)
"Dealing with a 'Dharma Crisis,'" in Mandala (2014)
"Challenging Orthodoxy in Tibetan Buddhism," in Mandala (2014)
"Why We Need the Big Picture," in Buddhadharma (2014)
COURSES TAUGHT 
Introduction to the Study of Religion (Summer 2018)
TEACHING ASSISTANTSHIPS/GUEST LECTURES — RELIGIOUS STUDIES
Zen Buddhism (Fall 2020)
Introduction to Buddhism (TA/Guest Lecturer; Summer 2019, Summer 2020)
Substitute Lecturer (partial course), Introduction to Buddhism (Summer 2019)
Introduction to the Study of Religion (Winter 2019)
TEACHING ASSISTANTSHIPS — OTHER DEPARTMENTS
Vampires, Monsters, Madness: Fables of Modernity (Spring 2019)
World History (Winter 2018)