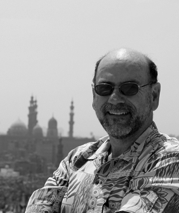 Associate Professor
Area:
History of Religions (Islam), Arabic
Office:
HSSB 3083
Office Hours:
W 11-11:50
Time Period: Fall 2018
Email:
About:
Juan Campo is an Associate Professor of Religious Studies at the University of California in Santa Barbara.
Publications:
Encyclopedia of Islam Facts on File, 2009). Written for students and the general public, this encyclopedic guide explores in some 600 A to Z articles the terms, concepts, personalities, historical events, and institutions that helped shape the history of this religion and the way it is practiced today. Includes an informative introduction that provides readers with an overview of Islam, and maps, a chronology, a detailed bibliography, an index, and approximately 80 black-and-white photographs.
Book: The Other Sides of Paradise: Explorations into the Religious Meanings of Domestic Space in Islam (1991). Winner of the AAR best book award in 1993, history category. A comparative study of Muslim discourses about the religious significance of the home as expressed in sacred texts and in Egyptian ethnographic contexts.
Editorial Work: Merriam-Webster's Encyclopedia of World Religions (articles on Islam and Bahai religion), 1999.
Articles:
"Orientalist Representations of Muslim Domestic Space in Egypt," Traditional Dwellings and Settlements Review, International Association for the Study of Traditional Environments, 3 (1991): 29-42.
"The Ends of Islamic Fundamentalism: Hegemonic Discourse and the Islamic Question in Egypt." Contention, 4 (1995): 167-94. A critique of the use of the concept "fundamentalism" as deployed by the Fundamentalism Project and in the works of other western and Middle Eastern authors to characterize modern Islamic ideologies, strategies, and practices.
"Islam in California: Views from the Minaret," Muslim World 86 (1996): 294- 312. An analysis of self-representations of Islam as expressed in a periodical published for over ten years by a leading Islamic organization in southern California.
"American Pilgrimage Landscapes," The Annals of the American Academy of Political and Social Science 558 (1998): 40-56. An overview of the variety of pilgrimage traditions and practices found in the U.S. during the late 20th century, and of their local and global signficance.
"Muslim Ways of Death: Between the Prescribed and the Performed." In Death and Religion in a Changing World, pp. 147-177. Edited by KathleenGarces-Foley. New York: M.E. Sharpe, 2006. A comparative examination of the relation between prescribed Islamic funerary rites and actual funerary practices, with examples drawn from textual and ethnographic evidence.
Courses Taught:
RS 1: Introduction to the Study of Religion
RS 140A: Islamic Traditions
RS 140B: Religion, Society, & Politics in the Persian Gulf
RS 140C: Islamic Mysticism & Religious Thought
RS 140D: Islam in South Asia (new in Winter 2001)
RS 140F: Modern Islamic Movements
RS 185: Food, Culture, and Religion in the Middle East
RS 186: The Arabic Qur'an
RS 209: Seminar on Hindus and Muslims in South Asia
RS 210: Guided Readings in Arabic Religious Texts
RS 215: Proseminar in Islamic Studies