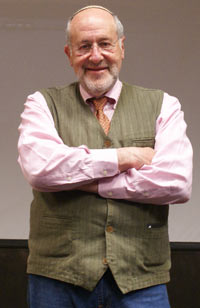 Professor Emeritus of Religious Studies
Area:
Hebrew Judaic Studies, History of Religion
Office:
HSSB 3076
Email:
Curriculum Vitae:
About:
Richard Hecht was trained as a historian of religions under the influence of Mircea Eliade through his teacher at UCLA Kees W. Bolle. He has become increasingly interested in the deep contextualization of religion in its lived environments and most centrally the intersections of religion, politics, and culture. His work is comparative and multidisciplinary, both of which are essential, in his opinion, to the larger study of religion.
Publications:
To Rule Jerusalem with Roger Friedland (2nd Revised Edition, 2000).
Articles:
"Sacred Urbanism: Jerusalem's Sacrality, Urban Sociology, and the History of Religions" with Roger Friedland, Conference on "Jerusalem Across the Disciplines," Arizona State University, Tempe p. 19-21 February, 2007
"Changing Places: Jerusalem's Holy Places in Comparative Perspective" with Roger Friedland (Israel Affairs, 1999).
"The Bodies of Nations: A Comparative Study of Religious Violence in Jerusalem and Ayodhya" with Roger Friedland (History of Religions, 1998).
Courses Taught:
Professor Hecht regularly teaches courses in the area of Judaism, including advanced Hebrew text courses which span ancient Israel and the Hebrew Bible, rabbinic Judaism, and medieval and modern Jewish thought; courses in the area of religion, politics, and culture; and a graduate seminar in the history of religions (Religious Studies 250) which takes up the work of central figures in the history and contemporary practice of religious studies (in recent years the seminar has read extensively in the work of Sigmund Freud and Walter Benjamin).
GLOBL 102: Global Religion (with Mark Juergensmeyer, Global & International Studies)
RS 110C: Religion and Contemporary Art (with Linda Ekstrom)
RS 113: Religion and Film
RS 131D: Judaism in Modern Times
RS/SOC 131H: Religion and Politics in the City: The Case of Jerusalem
RS 132: The Contemplative Life (with B. Alan Wallace)
RS 134: Religion and Violence
RS 155: Religion and the Impact of Vietnam
RS 250: Seminar in the History of Religions